At Converting Team, we started life as affiliates. That's why we know what affiliates need from their platforms. Most networks use third-party platforms, which don't adapt well to their clients' needs. We wanted to change the game, which is why we have developed our own.
We understand how frustrating it can be when platforms are clunky and over-complicated. Our aim is to remove that friction and create a user-friendly experience to help you set up campaigns quickly and effectively.
That's why the aim of our new platform is simplicity, giving you:
A new user-friendly interface that simplifies campaign setup.
Offer links that allow you to send traffic to multiple GEOs with a single click.
A constant flow of new offers across multiple verticals.
All of your tracking and reporting in one place.
Getting Started
If you haven't signed up to the new platform yet, then you can get started by clicking here.
The first page you'll arrive at will be the Dashboard.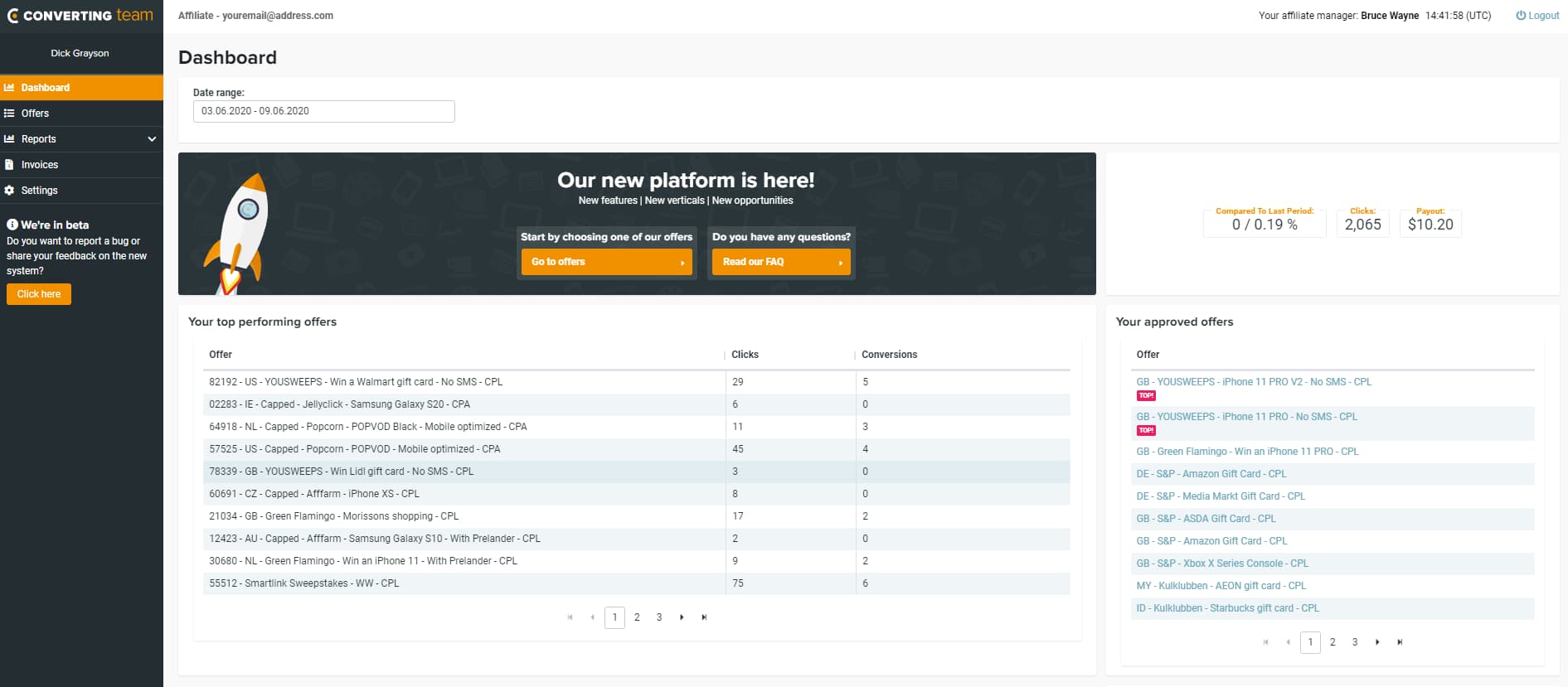 How do I start sending traffic?
It's now easier than ever to start sending traffic. Simply go to the Offers section and refine your search for the type of offer you would like.
The you can refine your search using the following filter options:
Flow Type
Devices
Verticals
GEO
Public, Private or ApplytoRun offers
Once you have selected the type of offer you would like to run, hit apply and choose from the list.
You can view detailed descriptions of each offer by clicking on the name and a preview by clicking 'Preview offer'.
Your affiliate manager will then either approve or reject your offer. If you would like to speed up the process of approval, then contact your affiliate manager directly. It's always best to speak to your affiliate manager when choosing new offers to run as they will be able to give you the highest converting offers for your traffic and campaign flow.
Once your offer is approved, you'll be able to set up your tracking links, choose your landing pages/creatives and get your postbacks.
New Offers in New Verticals
We've released hundreds of hot offers across a wide-range of verticals, meaning you can now take on more markets worldwide.
Here are links to our bumper guides to each vertical:
How to set up your tracking links and postbacks
If your offer has been approved, then the link which previously gave you a description will now take you to the full offer page where you can set up your tracking links and postbacks..
Here you can find all of the offer details and add your links.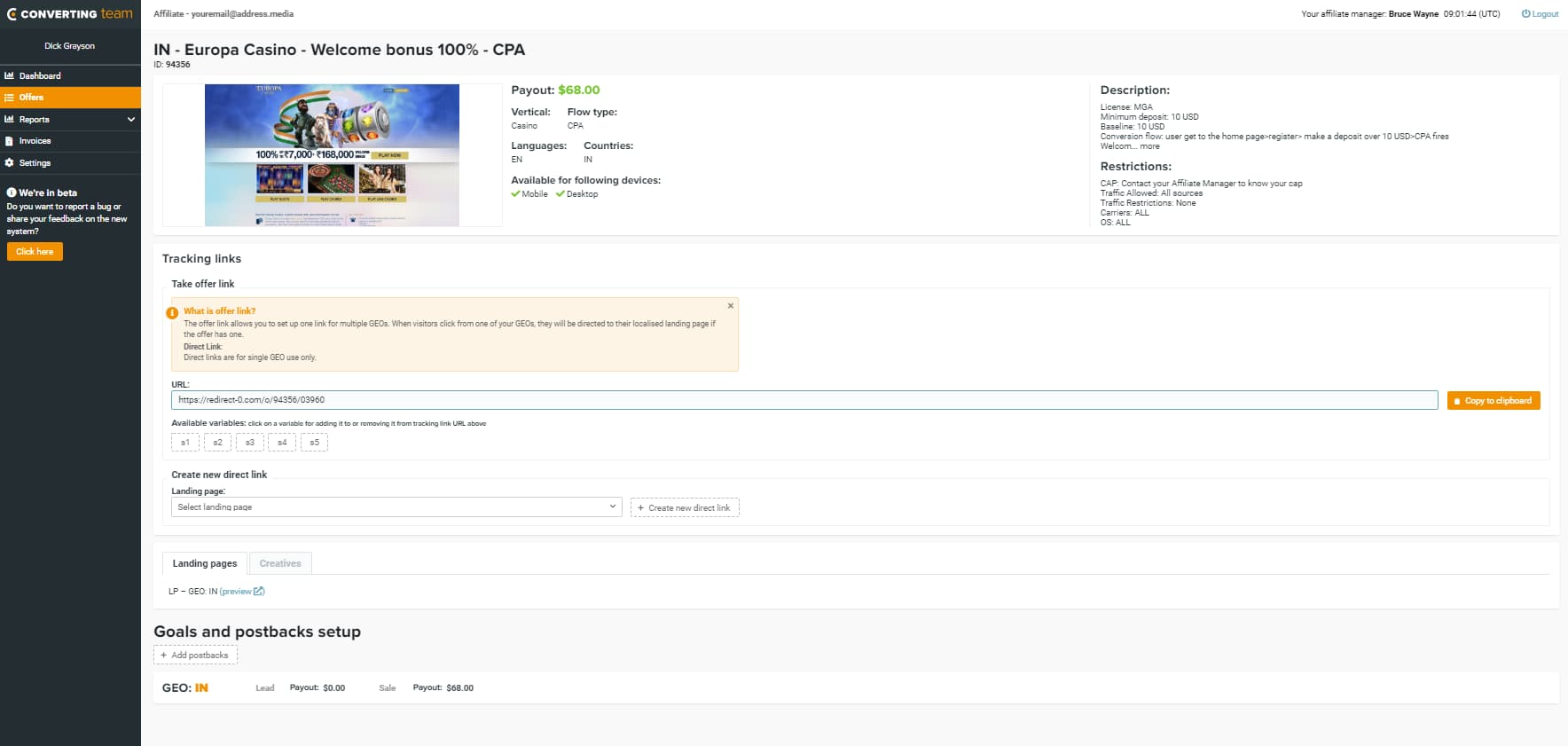 Introducing Offer Links

Offer links allow you to use one link for multiple GEOs. When visitors click on a link from their GEO, they will be directed to the localised version of the offer. This makes setting up campaigns quicker and easier than ever before.
Your offer links are generated automatically by our system in the URL box. To track using third-party trackers, select the variables you'd like to use and then copy and paste the link into your tracking platform and replace the variable.
Direct Links

Alternatively, you can create a new direct link for single GEO use by selecting the landing page you would like to use and clicking '+create new direct link'. You can then select your variables, copy and paste the link into your tracking platform and replace the variable.
Postbacks
To set up a new postback, scroll to the bottom of the offer page and click '+ Add Postbacks'.
This will open a window where you can create and add new postbacks.
Start by selecting your goal from the list. The options are Visit, Lead, Sale and Revenue Share. You can then paste your postback into the URL box and add your variables.

Reports
In the reports section you can find detailed overviews of all of your campaign events and track your clicks in real-time.
Performance Reports
The performance report section will give you a quick overview of how your campaigns are performing. It shows you the number of clicks, conversions, sales, leads and your earning amounts, as well as your conversion rates for sales and leads.

Your performance reports can be grouped using Date range and the following Data grouping options:
Vertical
Country
Year
Quarter
Month
Week
Day
Hour
S1
S2
S3
S4
S5
Landing Page
You can also create additional filters for individual:
Offers
Verticals
Countries
Variables
Click Report
Your click report will give you detailed information about the clicks you recieve. You will be able to view click times, country, TxIDs, User Agent, IP address and Offer.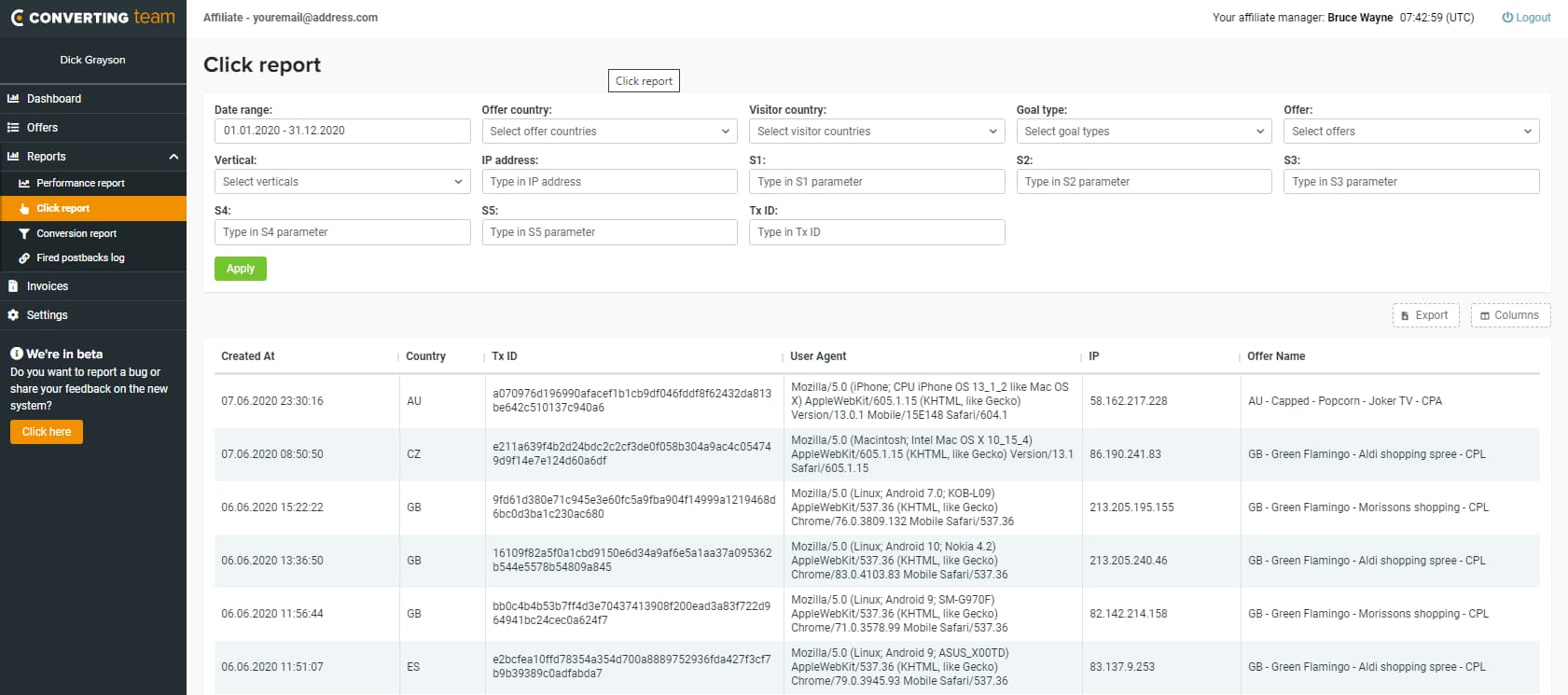 You can filter your click report based on Date range and:
Offer Country
Visitor Country
Goal Type
Offer
Vertical
IP Address
Variable
TxID
Conversion Report

On the Conversion Report Page you can find detailed information regarding your conversions. Here you can view conversion dates, country, TxID, conversion type, offer, conversion status and payout
You can also filter your results using Date range and:
Offer Country
Visitor Country
Goal type
Offer
Vertical
IP Address
Variable
TxID
Fired Postbacks

On this page you can see all of the postbacks that have fired for your campaigns and check their statuses.
Here you can filter using:
- Date range
- Goal types: Visit, lead, sale or Revenue Share
- Offer types: Public, Private, ApplytoRun
- Methods: GET and POST
Settings
In the Settings section, you can update your profile, edit your payment/billing details, change your password and get a quick overview of your global postbacks. There is also a handy FAQ section if you get stuck.
If you're already using the new platform or thinking about getting started, then let us know what you think. Your feedback really help us to give you the service you need.