If you're running ads on Facebook then you can find yourself drowning in comments. This week, we'll give you a few tips on how to keep on top of them. 
If you've run a few Facebook pages, then the chances are that you are fairly adept when it comes to replying to users' comments. However, if you're starting to run ads then it becomes a whole different ball game. 
Facebook ads, also known as dark posts, don't feature on your Facebook page, but they do appear in people's newsfeeds. Leaving them unchecked can do some serious damage to your campaigns, especially if they get picked up by bots and trolls. 
Similarly, you might be getting a lot of legitimate questions from people which deserve to be answered and, if a lot of people are asking the same question, you can find out useful information about how to improve your flow. Therefore, it's important to take charge and find ways to control the comments across all of your posts, not just the ones on your pages. 
How to reply to comments on Facebook Ads
Facebook has a special section dedicated to curating comments and direct messages from people who see your ads. You can find this in your page's inbox. If you're running successful campaigns, then you might be getting hundreds of comments a day, in which case, it can be difficult to respond to everyone. 
One way to keep people happy is to use automated responses. Facebook has a built-in version of this, however, it's fairly limited. Another option is to use a third-party chatbot like ManyChat. 
It's possible to have automated responses for both comments and DMs. When it comes to replying to people's comments, you can reply with a quick automated DM. This is pretty good as it makes the following interaction private, however, a lot of people find it kind of creepy, so only use it as a last resort. 
Facebook Business Manager
Facebook's built-in inbox is pretty decent if you're just starting out. It has a simply interface and you can view comments quickly and easily. However, it is far from perfect and it can be pretty clunky if you're dealing with hundreds of messages.
Pros: The Business Manager allows you to view all messages and comments that your page and ads receive. 
Cons: The Business Manager inbox is quite limited. You can only tag messages as spam or for follow-up, and can't add internal comments or track your interactions with individual users. Therefore, it might be ok for affiliate marketers, but as for businesses that require customer service, there are much better options. 
Facebook Ads Manager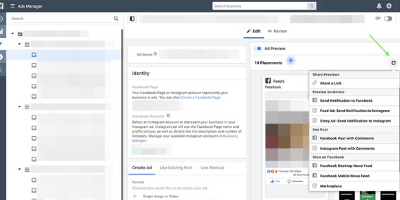 Facebook Ads Manager has its own inbox, where you can view comments by each ad. This is a great feature if you want to clean up some ads that are working well so that they work ever better. 
Pros: You can quickly and easily see which posts are getting which comments and reply directly to visitors. You also don't have to click each comment individually to see where they were posted. 
Cons: Ads Manager doesn't notify you when your ads receive comments, making it difficult to keep track of new comments and replies.
Third-Party Messenger Platforms
Sprout Social supports Facebook Ad comments when you connect both your Facebook Page and your Facebook Ad account.
Sprout Social's Smart Inbox collects all of the comments and messages from all of the pages you link. Unlike Facebook's own inboxes, you can create your own tags/filters so that you don't have to sort through your entire inbox to find the messages you're looking for. 
ManyChat is a great tool for automated responses. Their service allows you to build detailed flows and carry visitors from the first comment straight through to conversion. They also have a built-in subscriber base where you can retarget subscribers. 
The Bottom Line
If you don't already reply to comments and messages on social media, then now is the time to start. It will help you maintain your Facebook page and shows Mark Zuckerberg that you're the real deal. Plus, you can even tap into some very good profit channels if you take the time to test things out.