Twitter is now accepting public applications for verified accounts. Here are the requirements and guidelines for being accepted.
Twitter is currently accepting applications from users who want to become verified and get their official blue badge. 
Twitter verification applications have been closed since 2017, because the company believed that badges may imply endorsement. As a result, verified accounts have, for the last 5 years, been chosen on a case-by-case basis. This has meant that a lot of people, who may have otherwise been eligible, have been unable to acquire the badge. 
Now, some users can submit their applications directly via their personal accounts settings page. Of course, not everyone is eligible, but if you have a company page or are an active influencer, then you may be able to get verified. 
*Note: The rollout is gradual, so not all users will have the option available to them yet.*
Twitter Verification 2021 - How it Works 
There have been a few changes made to how the public application process now works, since its termination in 2017. 
In terms of what verification means for an account, it can give people who view your Tweets a higher level of trust as a mark of authenticity, however, it is not meant as a public endorsement. It also does not allow any special privileges on the platform, and verified accounts are subject to the same rules and regulations as unverified accounts. 
Verification can be removed for the following reasons: 
The account holder no longer holds the position they were in which made them eligible for the initial verification.  
The account is incomplete or becomes inactive. 
Severe violations of Twitter's policies. 
Misleading Twitter users via impersonation; changing the display name or bio to deliberately deceive. 
Who is Eligible for Verification?
In order to be considered for eligibility, a user must have been active on the platform within the last 6 months and have a completed profile including a confirmed telephone number or email address. 
There are 6 different categories for the types of user accounts that may be eligible for Twitter verification. These are: 
Companies, Organisations and Brands
News Outlets, Independent Media Organisations and Journalists. 
Government
Entertainment Organisations and Entertainers
Sports and Gaming Organisations and Athletes
Activists, Organisers and Influencers
More categories are expected by the end of the year including, academics, religious leaders and scientists.  
How to Apply for Twitter Verification
If you believe that you may be eligible for Twitter verification, then check to see if you have the option available to you.
To check if you can get verification from Twitter, go to Account Settings - Your Account. If available, you will see your Verification status:

If you don't see it yet, don't worry, it will be rolled out gradually, so just hang tight. If you do have the option, then you can proceed to verify your account.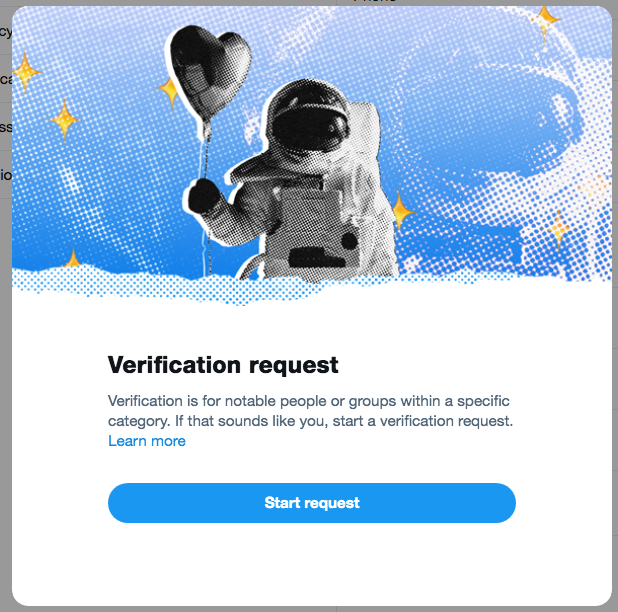 You'll need to have been mentioned in verifiable online media as well as provide links to your main website.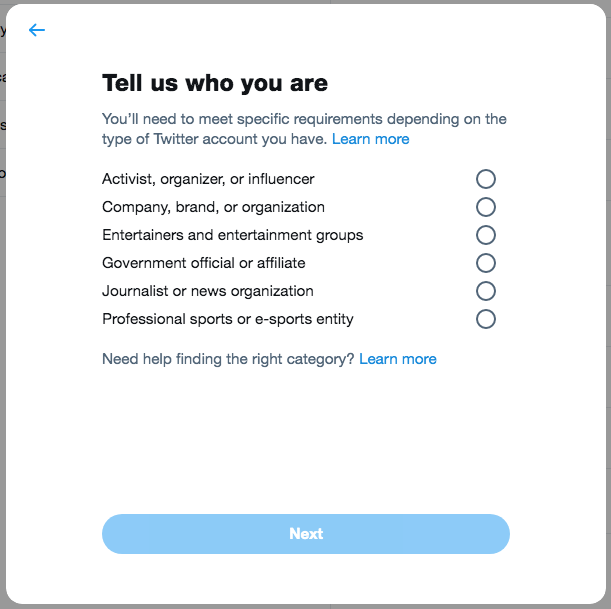 Once you have the initial steps taken care of, you'll need to prove your identity.
You can choose from three options to verify your identity and authenticate your account. These are: 
Official website that references you (or your organization) and your Twitter account.

Photo ID verification - an official government-issued ID document e.g. Driver's License or Passport.

Official email address with a domain relevant to the notability category you choose.
Once you have provided Twitter with your relevant details, then you can submit your application. Approval can take anywhere from a few days to a few weeks, so be patient.
If you're application is successful, then your blue badge will be automatically displayed and you'll have a Verified Twitter Account!